Wellion
Your diabetesexpert
Reliable quality for your health
Recognised throughout the world in the field of human healthcare.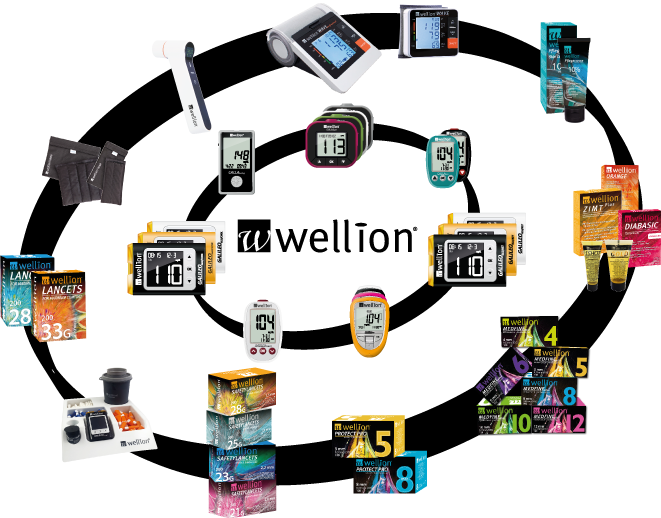 Our Wellion brand offers customers numerous quality products which were developed with diabetics in mind. The basis is a comprehensive quality management system in accordance with the most stringent national and international norms (ISO 13485).
The Wellion product range includes the following premium products:
Blood glucose meters & accessories
Blood glucose- and cholesterol meters
Blood glucose- and ketone meters
Blood glucose-, cholesterol- and uric acid meters
HbA1c meters & accessories
Glucose teststrips
Cholesterol teststrips
Keton teststrips
Uric acid teststrips
HbA1c teststrips
Disposable syringes
Lancets & safetylancets
Penneedles & safety penneedles for insulin injection
Insulin pump & accessories
Infusion sets for insulin pump
Reservoir for insulin pump
Glucose teststrip for PDA of insulinpump
Sensor (CGMS)
Blood pressure monitors & accessories
Invertsugarsirup
Food supplements
Care products
Cooling pouches for insulin
Thermometer
Mesh-Nebulizer
Pulse-Oximeter
SARS-CoV-2 antigen rapid tests
SARS-CoV-2 antibody rapid tests
FFP2 masks
Our tremendous innovative strength which we have demonstrated consistently over the course of the last 25 years ensures that we will continually expand our product range and thus continue to satisfy the needs of current and future customers – and for the most part much faster and more precisely than our competitors.